When hail, wind, or snow storms strike, your roof can sustain significant damage. If you find yourself in this unfortunate situation, one pressing question comes to mind: Will your home insurance cover the cost of roof repair? The answer is YES, but it's important to consider a few key factors before filing a roof insurance claim.
A homeowners insurance policy generally provides coverage for roof repairs resulting from natural disasters. Whether it's hail pelting your asphalt shingles or strong winds causing structural damage, your policy is designed to protect you from these unexpected events. However, it's crucial to review your policy to understand any limitations, exclusions, or deductibles related to roof repairs after natural disasters. Gathering as many documents of the damage, such as before and after shots, will support your claim and increase your chances of a successful claim.
In this blog post, we will explore the nuances of homeowners' coverage for roof repairs, providing you with the essential information to navigate the homeowners' insurance claim process effectively.
What is Roof Repair Coverage?
Roof repair coverage refers to the protection provided by a homeowners insurance policy for the repair or replacement cost of the damaged roof. This coverage typically applies when the damage is caused by certain perils, such as hailstorms, windstorms, or other natural disasters specified in the policy. Roof repair coverage helps homeowners mitigate the financial burden of restoring their roofs to their pre-damaged condition, ensuring the integrity and safety of their homes. It's essential to review the specifics of your insurance policy to understand the extent of coverage, any deductibles, and any limitations or exclusions that may apply.
An Overview Of What Home Insurance Does and Does Not Cover
Understanding the scope of your home insurance coverage is essential when it comes to roof repairs. By knowing what your policy typically covers and what it excludes, you can make informed decisions and take appropriate steps to protect your home. Remember to review your policy thoroughly and consider any additional coverage options to ensure you have the right level of protection for your roof.
What Does It Cover?
Damages to the roof that are caused by covered perils, including fire, hail, windstorms, falling objects, and some natural disasters.
Damages to the roof resulting from vandalism, theft, or other non-weather-related events.
Additional expenses related to the repair process, such as temporary housing or living arrangements if the roof damage renders the home uninhabitable.
What Does It Not Cover?
Damage resulting from neglect, lack of routine maintenance, or normal wear and tear over time.
Damage caused by earthquakes or floods, which may require separate coverage.
Exclusions or limitations on coverage for certain types of roofs, older roofs, or roofs in poor condition (specifics can vary depending on the policy).
From Basic to Premium: Exploring the Different Types of Home Insurance Policies
From basic to comprehensive plans, there are various types of home insurance policies available to homeowners. Understanding these options is essential for making informed decisions about the right coverage for your needs. Here, we'll explore the most common types of home insurance policies to help you choose wisely:
Homeowners Insurance
This widely-used policy provides coverage for both the structure of your home and personal belongings. It may also include liability coverage for accidents or injuries that occur on your property.
Dwelling Coverage
This policy focuses solely on the physical structure of your home, offering protection against damages caused by covered perils. However, it typically does not cover personal belongings or liability.
Hazard Insurance
Designed to protect against specific hazards such as fires or floods, this policy covers damages resulting from these events. It may not include coverage for other types of damage or liability.
Flood Insurance
This specialized policy provides coverage for damages caused by flooding, which is typically not covered by standard homeowners insurance.
Earthquake Insurance
Specifically designed to protect against damages resulting from earthquakes, this policy is essential in areas prone to seismic activity. Earthquake coverage is usually not included in standard homeowners insurance.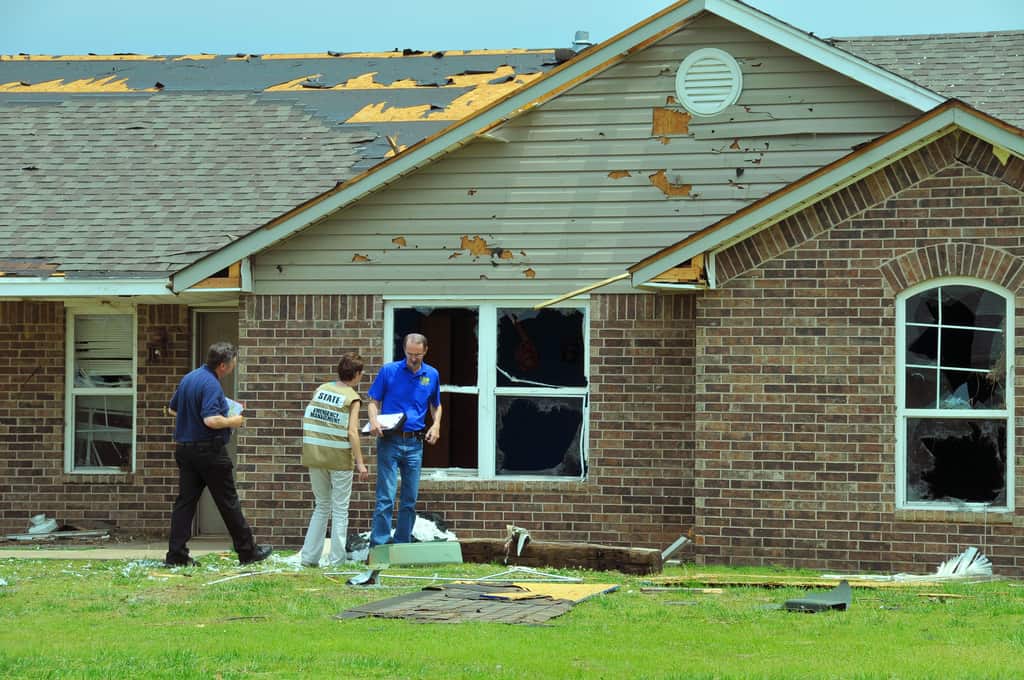 Yes Situations: Does Homeowners Insurance Cover Roof Leaks?
Homeowners often wonder if their insurance will cover the cost of roof repairs. Here are some common situations when homeowners insurance covers roof repair:
Damage From A Covered Peril
If your roof sustains damage from a covered peril, such as windstorms, wind and hail damage, fire, or falling objects, there's a good chance that your homeowner's insurance policy, including roof repair coverage, will cover the repair or replacement costs of the damaged roof.
Vandalism Or Theft
In unfortunate instances of vandalism or theft-related damage to your roof, your homeowner's insurance policy may step in to cover the expenses of repairing or replacing the roof, including roof repair coverage.
Other Non-Weather-Related Events
While not as common, if your roof is damaged by non-weather-related events like a plane or satellite falling onto it, your homeowner's insurance policy, including roof repair coverage, may cover roof replacement or repair costs.
No Situations: Does Home Insurance Cover Roof Leaks?
While homeowners' insurance cover roof replacement in various situations, there are certain instances where roof repair may not be covered. Here are some common situations when home insurance typically does not cover roof repair:
Wear And Tear
Damage resulting from general wear and tear, aging, or lack of maintenance is typically not covered by home insurance policies, including roof repair coverage. It is the homeowner's responsibility to properly maintain their roof to prevent such damage.
Neglect
Home insurance policies generally exclude coverage for damage caused by neglect, such as ignoring missing or damaged shingles or failing to address a leaking roof promptly. Regular maintenance and minor repairs to roof leaks are essential to prevent further damage and maintain coverage.
Flood Or Earthquakes
A deteriorating shingle roof can be prone to leaks, water damage, and other issues that can compromise the safety and integrity of your home. Shingle roof replacement ensures that your home is protected against the elements, including rain, snow, wind, and UV rays, keeping your interior safe and dry.
Cosmetic Damag
Certain insurance policies may have exclusions or limitations on coverage for specific types of roofs or roofs that are older or in poor condition. It's important to review your policy to understand any restrictions or roof requirements related to your roof's age, type, and condition
Roof Type Or Condition
Some insurance policies may have exclusions or limitations on coverage for certain types of roofs or for roofs that are older or in poor condition.
Crack The Code: Understanding Your Home Insurance Policy To Cut Costs On Roof Repair
Understanding the intricacies of your home insurance policy is key to ensuring that you have the necessary coverage when it comes to roof repairs. Here are some valuable tips for decoding your policy and making informed decisions:
Read The Policy
It is essential to dedicate time to carefully read and understand your insurance policy, including its terms and conditions. Take particular note of coverage limits, exclusions, deductibles, and the concept of actual cash value, as they play a crucial role in determining the outcome of your roof repair claims process.
Understand The Types Of Coverage
Familiarize yourself with the different types of coverage included in your homeowner's insurance, such as dwelling coverage, personal property coverage, and liability coverage. Gain a clear understanding of what each type entails and how it applies to your specific policy.
Know Your Deductibles
Your deductible is the amount you are responsible for paying out of pocket before your insurance coverage kicks in. Be aware of the exact deductible amount and how it applies to various types of claims, including roof repairs.
Review The Exclusions
Exclusions outline situations or events that are not generally covered by your policy. Carefully review and understand these exclusions to identify any gaps in coverage. If necessary, consider obtaining additional coverage to ensure comprehensive protection.
Keep Your Policy Up To Date
Inform your insurance provider about any changes to your home or personal circumstances, such as renovations or the acquisition of valuable assets. By keeping your policy up to date, you can ensure that you have the appropriate coverage for your evolving needs.
Ask Questions!
Don't hesitate to ask your insurance company for clarification on any aspects of your policy that may be unclear. Asking questions will help you gain a thorough understanding of your coverage and enable you to make informed decisions regarding your roof repairs.
Explore More on Roof Repairing with Dynamic Roofing Concepts!
Navigating your home insurance policy and understanding its coverage for roof repairs is crucial. By taking the time to read and comprehend your policy, understanding the types of coverage, knowing your deductibles, reviewing exclusions, keeping your policy up to date, and asking questions, you can ensure that you have the right coverage for your own roof repair needs.
If you need professional and reliable, roof inspection and repair services, look no further than Dynamic Roofing Concepts! Our team of experts is dedicated to providing comprehensive and stress-free solutions for all your roofing needs.
Contact us today at (813) 657-7663 to explore more about our services and to get a FREE estimate.
Don't let roof repairs overwhelm you - let us take care of your roofing needs with expertise and efficiency.