As a homeowner, ensuring the safety and integrity of your home is paramount. Your roof, the shield that guards your house from the elements, plays a vital role in this protection. When it comes to roofing, you must choose a legitimate roofing company that can deliver quality work. But how can you be sure you're making the right choice? In this comprehensive guide, we'll show you the ropes on how to check if a roofing company is legit.
The Importance of Choosing a Legitimate Roofing Contractor
Your home is one of your most significant investments, and the quality of your roof directly impacts its value and safety. Hiring fraudulent or unqualified roofers can lead to disastrous consequences. From shoddy workmanship to unfinished projects and liability issues, the risks are real.

On the flip side, hiring a licensed and insured roofing contractor offers a wealth of benefits. They bring professionalism, high-quality work, and peace of mind. Your roofing system is a complex structure that requires expert handling, and a reputable roofing company can provide just that.
License & Certification: The First Line of Verification
When it comes to safeguarding your home and ensuring the quality of your roofing project, the first step is to verify the legitimacy of the roofing contractor you plan to hire. This initial line of verification for legitimate roofing companies involves scrutinizing their licensing and certifications.

Let's explore the critical aspects of licensing, including understanding the licensing requirements for roofing contractors in your area. We will also emphasize the importance of additional certifications and ongoing training, which can be a significant indicator of a roofing company's commitment to excellence and customer satisfaction.
Understanding the Licensing Requirements of a Roofing Contractor:
Licensing requirements for roofing contractors vary by state and locality, but they serve a crucial purpose. A licensed and insured roofing contractor has met specific standards set by regulatory authorities, ensuring they have the necessary skills, knowledge, and experience to perform roofing work safely and effectively. Before hiring a roofing contractor, fully understand the licensing requirements in your area and verify that the company meets them. This step will help you weed out unscrupulous operators and protect your investment.
Additional Certifications and Training:
In addition to a valid license, look for roofing companies that invest in their employees' education and training. Certifications from legitimate roofing companies and material manufacturers, like GAF or CertainTeed, demonstrate a commitment to staying updated with the latest industry practices. These certifications also mean that the company has access to high-quality materials and can offer enhanced warranties.
Insurance & Bonding: Securing Your Investment
When it comes to roofing projects, ensuring your investment and protecting your home is paramount.
The Role of Liability Insurance
Liability insurance is essential for any reputable roofing company. It protects both the company and the homeowner in case of accidents or damage during the roofing project. Without liability insurance, you could be held financially responsible for any mishaps on your property. Ensure that the roofing company you choose has adequate liability insurance coverage and request proof of insurance from the insurance company.
Workers' Compensation and Your Peace of Mind
Workers' compensation is another critical insurance aspect to consider. It protects workers in case of injuries on the job. If a roofing contractor doesn't have workers' compensation, you could be liable for any worker injuries that occur on your property. Make sure the roofing company you hire provides workers' compensation for its employees. This not only protects the workers but also shields you from potential legal and financial issues.
The Assurance of Bonding
Bonding is like an extra layer of financial protection for homeowners. It ensures that the roofing company fulfills its contractual obligations, including completing the project as agreed and addressing any issues that may arise. Ask if the roofing company is bonded and request proof of up-to-date bonding. This will give you added confidence in your choice.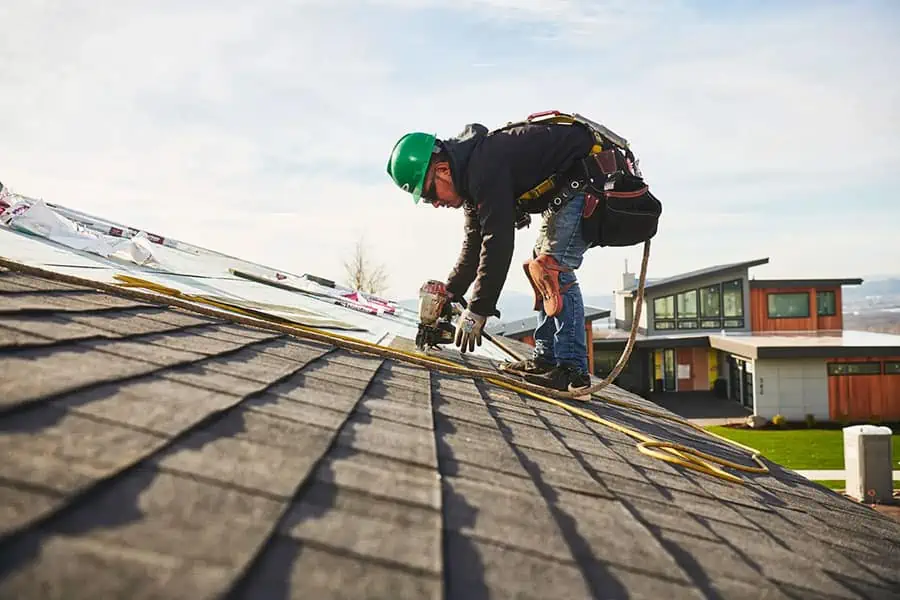 Reviews & References: Hearing from Others
Selecting the right roofing company for your project is a significant decision, and it's one that should be made with careful consideration.
Navigating Online Reviews
Online reviews can be a valuable resource when evaluating roofing companies. Look for reviews on reputable platforms like Google, Yelp, or Angie's List. However, be cautious of fake or biased reviews. Pay attention to the overall sentiment and check for recurring themes in the reviews. Keep in mind that no company is perfect, so a few negative reviews may not be cause for concern. What's important is how the company responds to criticism and whether they strive to address issues.
The Value of Personal References
Don't hesitate to ask roofing companies for references from past clients. Speaking directly to homeowners who have worked with the company can provide valuable insights into their track record. Ask them about their experiences, the quality of work, and whether they would recommend the company. When contacting multiple references, inquire about specific aspects of the project to get a well-rounded view of the roofing company's performance and reliability.
Professional Affiliations: A Sign of Commitment to Quality
Professional affiliations play a significant role in signaling a commitment to excellence and quality.

Recognizable Roofing Associations: Reputable roofing companies often belong to industry-specific associations such as the National Roofing Contractors Association (NRCA) or the Roofing Contractors Association of Your State. Membership in these organizations indicates a commitment to industry standards and best practices.

Local Chamber of Commerce and BBB Rating: Check if the roofing company is affiliated with your local Chamber of Commerce. Such affiliations demonstrate a commitment to the local community and often indicate a certain level of trustworthiness. Furthermore, look up the roofing company's Better Business Bureau (BBB) rating and any complaints filed against them. A high rating and a clean history are positive indicators.
Transparent Quoting and Contracting
Transparency is key when it comes to roofing projects.

The Red Flags in Pricing: Be cautious of roofing companies that provide unusually low bids, as this may indicate the use of subpar materials or shortcuts in the project. On the other hand, high-pressure sales tactics should also raise concerns. A legitimate roofing company will provide a fair and transparent estimate based on the project's scope and materials used.

The Importance of Written Contracts: A legitimate roofing company will provide a detailed, written contract that outlines all the details of the project, including the scope of work, materials to be used, timelines, payment schedules, and warranty information. A physical copy of the roofing contract is essential for clarity and protection, as it serves as a legally binding agreement.
Personal Interactions: Gut Feelings & Company Culture
Personal interactions and company culture play a significant role in the overall experience of choosing a roofing company.

First Impressions and Communication: Your initial interactions with a roofing contractor or company set the tone for the entire project. Prompt, clear communication is fundamental. A reputable roofing company values your time and inquiries, responds promptly to your calls and messages, provides clear and concise information, and maintains courteous and respectful behavior throughout. Additionally, check if the roofing expert had a permanent business address during the project to ensure their stability and commitment.

Evaluating Company Culture: Company culture influences the quality of service and workmanship you receive. A positive company culture fosters motivated employees, encourages ongoing training and development, promotes teamwork, upholds ethical behavior and integrity, and prioritizes your needs and satisfaction. During your initial consultations, inquiring about their values and their dedication to ethical business practices can provide valuable insights into their overall company culture.
Conclusion: Arm Yourself with Knowledge for Safe Roofing Companies
In your quest for a trustworthy roofing company, knowledge and diligence are your greatest allies. Armed with these insights, you can confidently choose a roofing company that meets your standards, ensuring a secure and successful roofing project. Dynamic Roofing Concepts, Inc. is here to assist you with a Free Roof Inspection at 813-657-7663, offering a wide range of high-quality roofing services. Your home deserves nothing less than the best, and by following these steps, you can make an informed decision to protect your investment.