Are you in the market for a reliable licensed roofing contractor in the Sunshine State? Look no further! At Dynamic Roofing Concepts, Inc., we understand that selecting the right roofing contractor for your commercial project is a crucial decision that can impact the safety, longevity, and overall value of your property.

With our extensive experience and unwavering commitment to delivering top-notch workmanship, we've compiled this comprehensive guide to help you make an informed choice. From navigating Florida's unique roofing challenges to ensuring transparency and safety, we've got you covered every step of the way.
Understanding Florida's Unique Roofing Challenges
Florida's tropical climate, characterized by scorching heat, heavy rainfall, and frequent hurricanes, presents a set of distinctive challenges when it comes to commercial roofing. The relentless exposure to the elements demands robust roofing solutions that can withstand the harshest weather conditions.

At Dynamic Roofing Concepts, Inc., we specialize in addressing these challenges head-on, ensuring that your next roofing job, not only meets but exceeds the rigorous standards required to protect your valuable investment.
Licensing and Certification: Finding Roofing Contractors You Can Trust
In the realm of commercial roofing, trust is paramount. It all starts with choosing a licensed and certified roofing contractor. Why is this so crucial, you ask? Well, licensed contractors not only adhere to state and local laws but also guarantee compliance with stringent safety regulations and quality standards. Our team at Dynamic Roofing Concepts, Inc. takes immense pride in being fully licensed and certified, offering you the peace of mind that your project is in the hands of true professionals who prioritize your safety and satisfaction. To find out more about selecting the right roofing contractor, simply contact us at 813-657-7663 and we will be more than glad to help you choose the right roofing contractor for your project.
State and Local Licensing in Florida
Florida, like many states, has specific licensing requirements for roofing companies. It's not just a formality; it's an assurance that the independent roofing contractor you choose is authorized to work in your area. We understand the importance of transparency for good roofing contractors, which is why we readily provide our licensing information to our clients, giving you the confidence you need when selecting us as your trusted roofing partner.
Recognized Industry Certifications
But wait, there's more to it than just licensing. Industry certifications are another essential aspect that sets quality contractors apart from the rest. At Dynamic Roofing Concepts, Inc., we've gone the extra mile to earn recognized certifications that not only showcase our expertise but also underline our unwavering commitment to excellence in every commercial roofing project we undertake.
Experience and Specialization: Beyond Basic Roofing
Experience matters—especially when it comes to complex commercial roofing projects. Dynamic Roofing Concepts, Inc. boasts an impressive track record in the commercial roofing industry, ensuring that we not only understand but also anticipate the unique needs and challenges faced by businesses in Florida.
Track Record in a Commercial Roofing Company
Our proven track record in the commercial roofing sector speaks volumes about the quality of our work. We've successfully completed a multitude of projects for businesses across Florida, earning the trust and loyalty of our clients who have consistently experienced the exceptional results we deliver.
Familiarity with Florida's Architectural Styles
Florida's diverse architectural styles, from Mediterranean to modern, can significantly influence roofing choices and the challenges that come with them. Our team at Dynamic Roofing Concepts, Inc. is well-versed in local architectural trends. We understand that your roofing solution must not only provide superior protection but also seamlessly blend with your building's aesthetics, ensuring a harmonious and visually appealing result.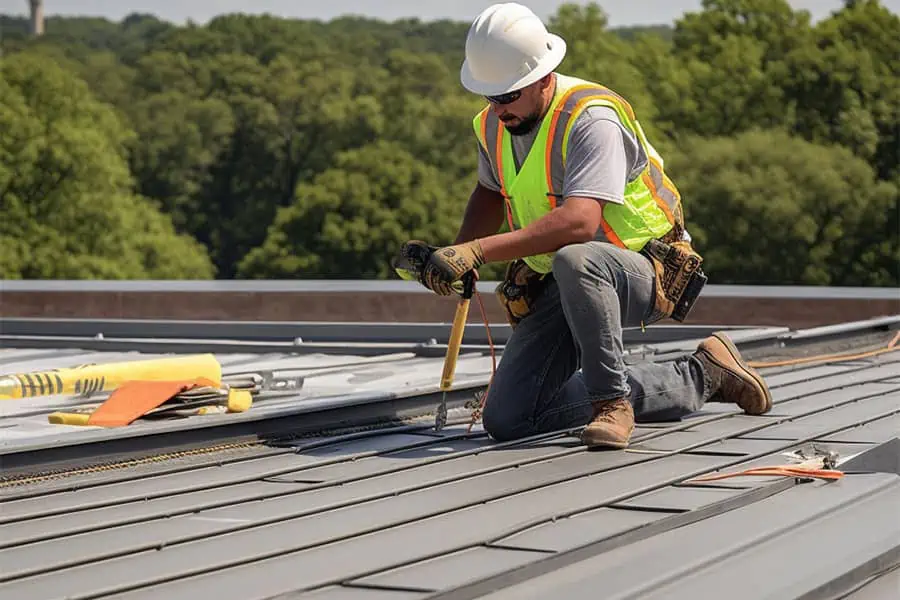 Reviews, Testimonials, and Case Studies
To make an informed decision, it's essential to leverage the wealth of information available through reviews, testimonials, and case studies. These valuable resources provide critical insights into a contractor's reputation, workmanship, and past performance.
Leveraging Online Reviews
Online reviews offer a transparent view of a contractor's reliability, work quality, and overall customer satisfaction. We encourage you to explore the plethora of positive reviews from satisfied commercial clients who have experienced firsthand the level of professionalism and excellence we bring to every project.
The Importance of Local Case Studies
In addition to reviews, requesting local case studies that showcase a contractor's work on commercial projects similar to yours is a smart move. We're proud to provide references that highlight our successful track record in Florida, giving you confidence in our ability to meet and exceed your roofing needs.
Communication and Transparency: A Partnership Approach
Efficient communication and transparency are fundamental to the success of any roofing project. At Dynamic Roofing Concepts, Inc., we prioritize open and clear communication, as well as meticulous documentation, throughout every phase of your project.
Clear Quoting and Contracting
Transparency begins at the outset of your project. Our detailed quotes and contracts outline every aspect of your roofing project, leaving no room for unpleasant surprises down the road. We believe that informed clients are satisfied clients, and we're dedicated to ensuring you have a comprehensive understanding of the work to be done.
Open Lines of Communication
Effective communication is the cornerstone of a smooth roofing project. We maintain open lines of communication, keeping you informed at every stage of the process. Whether you have questions, or concerns, or simply want updates on the project's progress, we, a reliable roofing company, are here to listen and provide the information you need.
Safety and Insurance: Non-Negotiable Aspects
When it comes to the safety of your project and the protection of your interests, there can be no compromises. We take these aspects very seriously.
Adherence to Safety Standards
Safety is paramount in every project we undertake. We adhere to strict safety standards and protocols, ensuring the well-being of our team and the preservation of your property throughout the project.
Adequate Insurance Coverage
Furthermore, we carry comprehensive insurance coverage to safeguard your interests. We strongly encourage you to verify a contractor's insurance coverage before making a decision. This step can help you avoid potential liabilities and ensure that you're protected in case of unforeseen events.
Long-Term Warranties and Maintenance Support
At Dynamic Roofing Concepts, Inc., we understand that your roofing investment is a long-term commitment. That's why we go the extra mile to offer extensive warranties and ongoing maintenance support to ensure the longevity and performance of your roof.
The Value of Warranties
Warranties provide peace of mind, and we're committed to offering the best coverage possible. Our warranties are a testament to the confidence we have in our work. Ask us about our warranty options and how they can benefit your business by protecting your investment for years to come.
Post-installation support and Maintenance
Top-tier contractors don't just walk away after the installation is complete. We provide ongoing maintenance services to keep your roof in pristine condition. Our commitment to your long-term satisfaction extends far beyond the initial project, ensuring that your roof continues to perform at its best.
Making an Informed Decision in the Sunshine State
In conclusion, choosing the right commercial roofer in Florida is a critical decision. Dynamic Roofing Concepts, Inc. is here to help you navigate the process, ensuring you select a contractor you can trust. With our extensive experience, commitment to quality, and dedication to safety, we're confident that we're the right choice for your commercial roofing needs.

Ready to get started contractor? Contact us today at 813-657-7663 for a free estimate and experience the Dynamic Roofing Concepts, Inc. difference. Your commercial roofing project is in safe hands with us!