Are you frequently stressed about potential leaks and various roofing problems? Do you aim to shield your property from severe weather conditions and prolong the lifespan of your roof? If these concerns resonate with you, then the GAF's HydroStop Roof Coating System might be the solution. Additionally, selecting the right roofing contractor for the task is crucial to ensure optimal results.
As property owners, we understand the importance of protecting our homes from the elements and keeping them in top condition. The roof is the first line of defense against the outside world and needs to be sturdy and reliable.
Unfortunately, the wear and tear of weather conditions can take its toll on even the most robust of roofs, leading to leaks and other common roofing issues. This is where the right roofing solution comes in, and today, we're excited to introduce you to a product that promises to protect your roof system and improve its longevity - GAF's HydroStop Roof Coating System.
In this blog, we'll delve into the advantages of this cutting-edge solution and how it can benefit your property. We'll explore its unique features, how it differs from other roofing products, and why it's the ideal choice for property owners looking for a durable and long-lasting roof.
So, if you're ready to take your roofing game to the next level, join us as we explore the wonders of GAF's HydroStop Roof Coating System. Trust us; you won't be disappointed!
What is HydroStop Coating?
HydroStop is a high-performance roof coating system manufactured by GAF, a leading provider of roofing products. This system is designed to protect and extend the life of flat and low-sloped roofs by providing a seamless, waterproof barrier.
HydroStop is made of a unique, elastomeric coating that forms a durable and flexible membrane over the roof surface. The membrane is resistant to water, UV rays, and extreme temperatures, making it an ideal choice for protecting your roof from the elements.
The HydroStop system is easy to install and can be used on various roof surfaces, including concrete, metal, and asphalt. It's also compatible with a range of insulation materials, making it a versatile solution for different roofing needs. Additionally, HydroStop is ENERGY STAR certified, meaning it can help lower energy costs by reflecting the sun's heat and reducing the roof's temperature.
In short, HydroStop Coating is a premium roofing solution that offers protection, durability, and energy efficiency for your roof.
What Are the Benefits of Installing GAF's HydroStop Roofing Coating?
This cutting-edge solution offers a range of benefits to property owners looking for a durable, long-lasting, and efficient roof. Here are some of the key advantages of installing HydroStop Coating:
Weather-resistance
HydroStop is designed to withstand extreme weather conditions, including heavy rain, high winds, and even hail. With its seamless and waterproof membrane, you can rest assured that your roof will remain protected from the elements.
Ease of Application
HydroStop is easy to install and can be applied to a variety of roof surfaces. The system can be applied quickly and efficiently, so you can get back to your routine with minimum interruption.
Durability
HydroStop's elastomeric coat is designed to be flexible and durable, making it an ideal choice for flat and low-sloped roofs. The membrane is also resistant to cracking and peeling, so you can enjoy a long-lasting roof for years to come.
Superior Resistance to Ultraviolet Rays
HydroStop's reflective coat helps to reduce the roof's temperature and protect it from harmful UV rays. This feature not only prolongs the life of your roof but also helps to lower energy costs.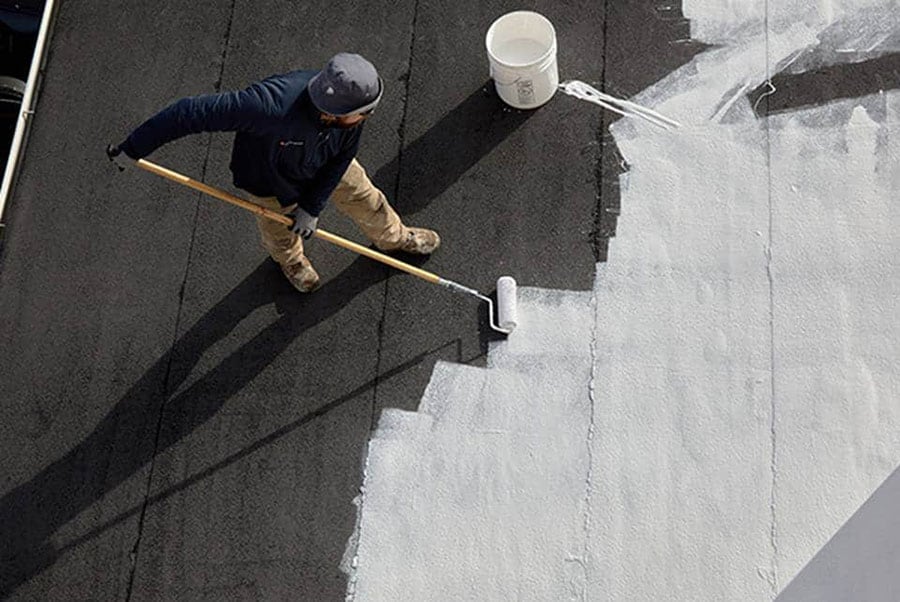 Approved Substrates
GAF HydroStop Coating is designed to be applied to a variety of roofing substrates, including:
Concrete
HydroStop can be applied to concrete roofs to provide a waterproof and protective membrane.
Metal
HydroStop is compatible with metal roofs and provides a durable and long-lasting solution for protecting the metal from the elements.
Asphalt
Asphaltic roofing can benefit from HydroStop's waterproof and reflective properties, which can help to reduce the roof's temperature and prolong its life.
Modified Bitumen
HydroStop can be applied over modified bitumen roofs to provide a seamless and protective barrier against the elements.
Single-Ply Membranes
HydroStop is suitable for application over single-ply membranes, such as EPDM and TPO, to extend their life and improve their performance.
It's important to note that these are only some of the approved substrates for HydroStop Coating. To ensure that HydroStop is suitable for your roof system, it's best to consult with a professional roofing contractor or manufacturer. They can provide you with specific information on compatibility and installation guidelines.
How Can You Apply Hydro-Stop Coating at Home?
Installing HydroStop Coating is a complex process that should only be performed by a professional roofing contractor. The process involves preparing the roof surface, applying the coating, and performing a final inspection to ensure that the coating has been applied correctly. Attempting to install HydroStop Coating without proper training and tools could result in damage to the roof or personal injury.
For the best results, it's important to work with a professional roofing contractor who has experience with HydroStop Coating and the equipment needed for its application. A professional contractor will also be able to perform any necessary repairs to the existing roofs before applying the coating, ensuring that your roof system is protected from leaks and other roofing issues for years to come.
Contact your roofing contractor at Dynamic Roofing Concepts today.
Schedule a Roof Consultation Today!
If you're interested in learning more about HydroStop and what it can do for your roof system, don't hesitate to contact your roofing contractor at Dynamic Roofing Concepts. Call 813-657-7663 or fill out our contact form.
We provide high-quality professional roofing services for homeowners in the Tampa Bay area. You can always count on our team of professionals to deliver the results you expect on time and within budget.